IF YOU CAN DREAM IT, YOU CAN DO IT!
"To be on the start line…wearing the "Green and Gold"…knowing in my heart that I have given everything to be there and deserve to be there…no longer being an individual but part of a team representing my country… AUSTRALIA. Now that's the ultimate, and those memories will stay with me forever. That's what makes all the hard work worthwhile." – Amanda Rankin
ABOUT ME
(Paradise Magazine Article – Christina Swaneveld 2006)
Amanda Rankin's dream of competing at the Sydney Olympics was shattered when a legal blunder saw her removed from the women's kayaking team just two weeks before the games. The Gold Coast born athlete tells Christina Swaneveld how she bounced back, stronger and wiser, and how her grandfather inspired her passion for sport.
MUSIC has a way of conjuring up a myriad of emotions in people, whether it is pensive sadness or uplifting joy. For Amanda Rankin, Kylie Minogue's song "On A Night Like This", brings back a flood of unpleasant memories that take her back to the closing ceremony of the 2000 Sydney Olympic Games. "There are songs that I hear on the radio that upset me and that's one of them," says Amanda. "I remember seeing my team and all the other athletes dancing to the song during the closing ceremony and it really hurt."
Watching the games as a spectator was difficult for Amanda who, a few weeks earlier, was a member of the Australian Women's Olympic K4 Kayaking Team. On the 25th of  August 2000 she was enjoying a celebratory dinner with her teammates and head coach when she received the devastating news. In an Appeals Court, she had been taken from the team and replaced by rival paddler, Yanda Nossiter. This paddler was second reserve in the team and had already had one appeal dismissed in the appeals tribunal, but had appealed again to the Court of Arbitration for Sport.  "It was absolutely shattering," says Amanda. "I had done everything right, I'd done nothing wrong. But I didn't realise how desperate people were to get into the team and how far they could take it. I didn't think that you could be taken out of a team in a courtroom. I thought your results on the water would be enough."
On the 6th of September 2000 Amanda appealed the decision and says she had full support from the selectors and the Australian Institute of Sport but their pleas for her to be reinstated fell on deaf ears.
"The court case went for nine hours and I had to leave the room to throw up because I felt like I was watching my whole career go down the drain," she says. "So in the end a judge selected the team even though he didn't have the authority to do so. It is the selectors job. The arbitrators found that I had been denied Natural Justice in the previous court but it was too late to do anything about it. I had the selectors and the top AIS lawyer trying to get me back in, but nothing could be done. Time and money had simply run out. Even today, Amanda's voice is filled with confusion and hurt as she struggles to explain how it happened. The incident caused a major stir in the sporting world. The story made international headlines and the selection process was criticised.
Perhaps it was best summed up by Amanda's mother, who expressed her feelings in a letter to the editor in the Gold Coast Bulletin:
"Amanda has astounded me with her will to go on," she wrote. "To be the selector's choice but not realise your dream would have been the end of a lesser person. I have a new understanding of the strength within my daughter, who will always be a winner in my eyes."
Nevertheless, the decision deeply hurt Amanda, who had worked tirelessly to gain selection."I just felt like walking away," she admits."I wondered why I had put myself through all that training. I felt like so many years had been wasted." When asked how she felt about the Australian K4 team finishing last at the Olympics, she smiles wryly and simply says: "I'm not even going to comment." Perhaps it is because she knows that asking "What if?" won't change the situation.
Certainly, her rise to fame as Australia's top female kayaker was not easy.Inspired  by watching Uncle Tobys Super Series on television, the former Palm Beach Currumbin High School student began surf life saving at the age of 13. But taking part in paddling events proved more difficult than Amanda imagined. "Back then there were no events for women, it was really male-dominated," she says. "I was told, 'If you want to do it you can, but we're not helping you.' "I remember lugging these big heavy skis down the beach. I didn't have a single muscle on me; I was like a skinny, little rake. The boys thought it was hilarious and no one helped me." Amanda changed surf clubs many times, in the hopes of finding a more supportive environment. However it only got worse, especially when she began competing against men and often finished ahead of them. "I got a lot of attention," she admits. "The commentator would say 'There's a girl at the start line'. I remember lining up alongside these big men who'd give me looks as if to say, 'Don't you dare get in my way'."
Amanda grew accustomed to the criticism but recalls one incident that left her utterly distraught. "I was about 17 and the craft captain came up to me and said 'Amanda, this has got to stop. You're an embarrassment to our club. Girls just don't paddle skis, take a good look at yourself. You will never make it as a paddler." Amanda was crushed. Even as she recounts the moment today, it is obvious the memory is still fresh in her mind. Like a child who is bullied, the captain's words clearly left an imprint. Despite the opposition she faced, Amanda persisted. "I got the Yellow Pages out and looked up rowing and outrigger clubs, anything to do with watersports," she says. The Nerang River Canoe Club welcomed Amanda and introduced her to her first kayak. In 1997, when the women's surf ski event final was first raced in the Australian Surf Life Saving Championships she enjoyed a moment of sweet justice. She finished second in that event and the person she handed her decal to after the race happened to be the craft captain who had told her she would never succeed.
"I didn't say a word to him. I just handed it to him and walked away. He probably doesn't even remember what he said to me but it had such a huge impact on my life. It hurt me for a long time."
By then, Amanda was a member of the national kayaking team, representing Australia overseas.
No one was prouder than her family, including her grandfather, who she says instilled in her a love for the water. Amanda's parents had separated not long after she was born, and as a child, Amanda and her mother lived with her grandparents at Labrador. She and her grandfather spent most weekends' together sailing the Broadwater on his catamaran. "I really loved my Pop, he was the most amazing guy," says Amanda. "He always told me, 'It doesn't matter what you do, as long as you enjoy yourself'.'"
"When I was seven, a man came to my grandfather's house and was introduced as a friend of my grandfather's," she says. "Afterwards, I was told that he was actually my father. My mother had remarried by this time and my new dad wanted to legally adopt me. My birth father was there to sign the adoption papers. I didn't hear from him again until my 21st birthday when he rang me out of the blue .He said he wanted to get to know me. We have been in touch a few times since and working on getting to know each other and developing a relationship. Amanda says she is at peace with the situation and is proud to call her adopted father "Dad". She is also close to her younger brother Tim.
Despite the support she received from her family during her ejection from the Sydney Olympics, the stress and hurt was compounded further by the death of her beloved grandfather. Tears well up as Amanda describes the lead up to his death. "Before the Sydney Olympics, he said 'Amanda, I'm stuffed. I'm just hanging in here for you, to see you race at the Olympics'. He was so proud of me and it broke his heart when I was taken out of the Olympic Team. Shortly after the Olympics he had a stroke and was unconscious for eight weeks. I knew his body was shutting down and I remember sitting on his hospital bed, holding his hand and saying 'it's okay Pop, just go'. I never went back to see him after that because I felt like he was actually gone.Four or five days later, he passed away. Shortly after I got the phone call, there was a massive hailstorm. A couple of hours after that, there was another massive hailstorm and the next morning it hailed again. It was so unusual for it hail three times in a row that I'm sure it was Pop saying goodbye."
Despite the disappointment of missing out on the Sydney Olympics, Amanda remembered her grandfather's advice about the importance of doing what you love. For her, that was kayaking. Although naturally hesitant, Amanda decided to try her luck at representing Australia at the 2004 Olympic Games in Athens. She made the team but admits she did not breathe a sigh of relief until the games officially began. "I was ranked number one so I'd done everything I possibly could but I refused to believe I was there until I walked into the opening ceremony. The threat of appeals was constantly on my mind. I don't believe anything until I see it now. I've got really big trust issues after what happened to me in Sydney. I struggle to trust that people will be honest with me and keep their word. My motto now is 'develop yourself so you don't have to depend on anyone else'. Amanda says as she qualified for the Olympics, she received another sign from her grandfather. "Shortly after we qualified, it hailed," she says. "I've got pictures of the hail sitting in my boat. It was like 'yep, that's my Pop'. I knew then that he was with me."
The women's kayak team finished sixth in Athens, at that time the best ever result for an Australian K4 crew at an Olympic Games. Amanda says representing Australia in her favourite sport was an `overwhelming' experience To be on the start line…wearing the "Green and Gold"…knowing in my heart that I have given everything to be there and deserve to be there…no longer being an individual but part of a team representing my country…AUSTRALIA. Now that's the ultimate, and those memories will stay with me forever. That's what makes all the hard work worthwhile.
Today, Amanda remains good friends with her former Athens's Olympic team mates.
Amanda's eyes light up as she speaks about adventure racing, which involves kayaking, running, mountain biking and orienteering. "You find yourself in the middle of nowhere running around, crawling in mud and up mountains. I just love the unknown," she says. I've come from a sport that would take just under two minutes. It was all upper bodywork and I knew exactly what every stroke was going to feel like. Adventure racing is mostly lower body and is all about endurance, something that takes Amanda out of her comfort zone.
It is obviously a sport that she finds exciting and rewarding and a lot different from her kayaking days. "With kayaking, I've had to wrap myself in cotton wool for the past 10 years. I was always avoiding any sport where I could injure myself," she explains. "When I'm out training and racing now, I come home with bruises and scratches all over me but I just laugh.  I've come from such an elitist sport. But with adventure racing, it doesn't matter whether you're the top team or the bottom. Everyone's equal and there to have fun." I have experienced more than most would in 10 life times. I have achieved so much already and I can achieve more, through adventure racing."
With her fierce determination and commitment, there is no doubt that Amanda will be successful, no matter what she decides to do. And every time she finds herself caught in a hailstorm, she will know that her grandfather is with her, indicating his approval.
UPDATE 2017 – Written by me (Amanda)
In 2009, after finding myself coaching and being asked to coach ALL THE TIME, I decided to make it official and Paddle Perfect was established. Since then I have presented kayaking programs for clubs, schools and state sporting organisations. I am now recognised as a Level One Coaching course presenter and assessor  – I coach the coaches 🙂 In 2010 I became an agent for Fenn Ocean Skis and Meek Paddles.
I have always really enjoy coaching in schools and find every time I get out on the water with young people rewarding. I have coached and continue to be the kayaking coach at schools such as Saint Stephens College, Springfield Anglican College and Lourdes Hill.
Growing up I LOVED horse riding. I had a horse named Jedda and adored her. But when I was around 15 I was torn between Surf Life Saving and taking care of a horse. Unbeknown to my parents I was riding Jedda to the local pony club each Sunday with absolutely no intention of taking part. Instead I would put my horse into a day yard, walk out to the street and get picked up by the surf club bus. I would spend the day at the beach. I would then get dropped back to the pony club and ride home giving my parents the impression I had had a great day doing horse riding activities. That was my beginning of paddling addiction. I soon got caught out and had to choose. The horse was sold 🙁
In 2014 I decided I needed horses back in my life and found myself a horse….. who just so happened to be mistakely pregnant. Oooops!!! In 2017 I now have a 3 year old beautiful boy who is my pride and joy. Oh and of course I named him "Paddles".
I am so grateful for the life I have. The horses gave me back the balance I needed in my life when I was getting burnt out with paddling. For a long time paddling was my everything, my work and play. I went and did a veterinary nursing course and worked in an equine clinic for almost a year. But of course I was 100% drawn back to paddling, helping others and doing what I do best. In April 2017 I opened up shop and the rest is history.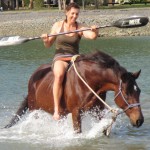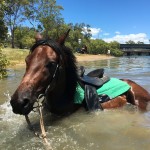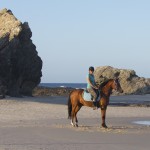 Pearl (Paddles Mum)              Paddles (Baby)                   Buddy (Paddles brother)